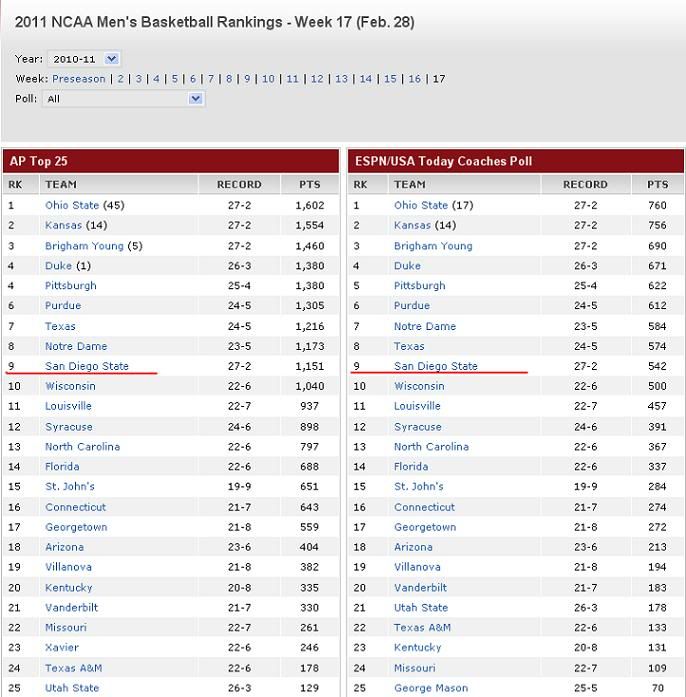 Questions?
Ummm, yeah, how come SDSU is ranked so far down with only two loses and there are other teams with more loses ranked above us?
Our best wins are... well... we have no best wins really. Sure we have beaten St. Mary's, Gonzaga and Wichita State but no current teams in the top 25 to speak of. However Notre Dame, Texas and Pitt have
multiple
wins against current top 25 talent. Frankly we still feel we are a bit too high.
Hey, BYU leapfrogs from 7 to 3 and nearly 6 spots above us. Are they really THAT good?
Are
you
kidding us? Granted we are not top 10 talent but the fact that they have an All American/All Wooden/All World/POY type player in James Taft Fredette AND the fact that even THEY have beaten current top 25 talent makes them deserving.
Why do they keep rotating the same three damn teams into the number one spot? Why won't they let another team have it?
We dunno. Hard to let go of the ones you love? Ask
Gary Parrish
.
Will BYU get the number one seed come tournament time?
If the Cougars can win their last two games and win the Mountain West tournament then yes. If not then no. If SDSU does the same then still no. Kansas and Ohio States are locks. Pitt and Duke need to have a good showing come their conference tourney time. BYU (if they do what we said) could knock off Duke from that final number one seeding.
More tea anyone? No? Then return to your posts, citizens.