O'Neill was reinstated Monday because his team got picked to be in the NCAA Tournament. Prove us wrong.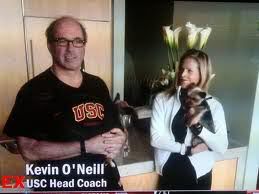 Kevin O'Neill, USC's currently suspended basketball coach will be officially relieved of his duties on Monday, March 14th according to sources close to the program (which means it's true). O'Neill and his crazy ass wife got into a fight with an Arizona fan at a Marriott bar. Both O'Neill and his wife were intoxicated.

This ends the strange sad affair of a man who was fucked over by former Arizona coach Lute Olsen, stumbled into the gig at Southern California, was so-so there and now potentially unemployed. C'est la vie.