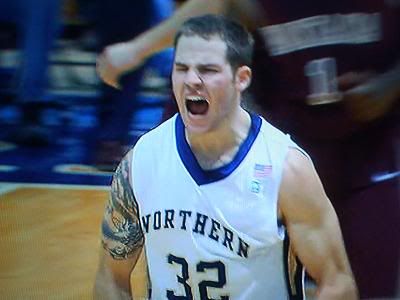 Northern Colorado 65 - Montana 60
On one hand you had two time defending Big Sky champ Montana Grizzlies. They've been to the dance before. They knew what to expect. They are the big boys on the block. On the other hand you had the Northern Colorado Bears (hey, it was bear on bear action). The Bears were the bottom of the barrel. Perennial laughing stock. Worst RPI in the country. Never came close to sniffing an NCAA Tournament bid.
That all changed last night. In a game that had some of us tearing up the Bears clawed and scraped their way to a lead with only 4 minutes left and would not let it go. There were Northern Colorado parents in the stands crying when they won the game. We had so many pictures that we wanted to post but we settled on the above. The Big Sky MVP and Northern Colorado hero who's shots singlehandedly lifted his team to victory, Mr. Devon Beitzel -



Welcome to March Madness, Northern Colorado. Have fun and revel in your time.