Yes, I agree with everyone saying that Davidson vs. Kansas was the most exciting game of the weekend.

Yes, I agree with everyone that having 4 #1 seeds in the Final Four makes for a memorable and justifiable tournament.

Lets get on with the news, shall we?

Wake Forest recruit practices his drive-by skills before the 2008-2009 season.

One of the most highly regarded recruits to ever sign a letter of intent to play basketball for Wake Forest was arrested Friday night by the Gwinnett County Sheriff's deputies on charges of assault and trespassing.

Al-Farouq Aminu, a 6-8 Parade All-America from Norcross High School in suburban Atlanta, was accused of shooting an unnamed female with a BB gun from inside a vehicle...

Shit, that ho probably owed him money. She's lucky he is still a BB gun "apprentice" and not a glock wielding graduate from the school of thuggery. For some reason the song "Still D.R.E." is playing in my head.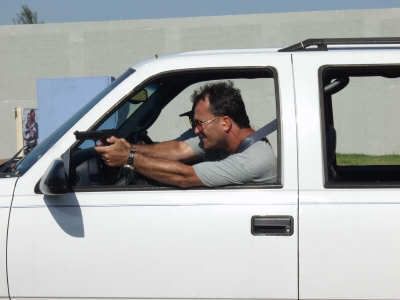 Yeah! That's how we roll in... Winston-Salem?

Next up, the brave Derrick Rose is like a little bitch around needles.

Rose came stalking out of the locker room, yelling, ranting and on the verge of tears. He only calmed down when team officials agreed to glue the cut and forget the stitches.

"I'm terrified of needles," he said. "If I would have got stitches, they would have had to stick a needle right above my eye. So I was pouting, stormed out of the locker room. I was mad."

Oh, this phobia has a very strong history the Memphis player...

When he was 7, he fell off his bicycle and another child ran over his head with a bike, causing a large wound on the back of his head.

"The nurses at the hospital were holding him down and he was so scared he broke away from them and got up," his mother, Brenda Rose, said in a phone interview. "So they had to tape him to the gurney and do the stitches.

Wow! I think UCLA just found a way to get into his head this coming Saturday. All the Bruins students should bring syringes. Start waving them around whenever Rose goes to the free throw line.

That would be HI-larious.