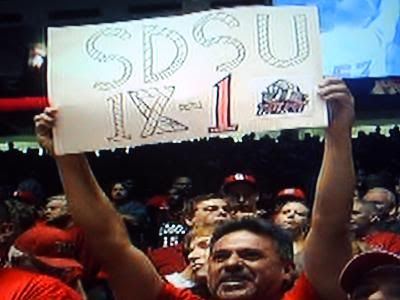 San Diego St. 87 - New Mexico 77
This was a dream come true. We played our mythical
complete game
when it mattered the most. We actually were fantastic in rebounds, free throws, field goals and especially
lights out three point shooting!
Kawhi Leonard kept us in the game until he fouled out with 2 minutes left in the second half. New Mexico fans were so angry they were screaming at Leonard to declare
for the NBA Draft
after this season. D.J. Gay turned into an arc roaming monster sinking
11 three point shots
.
So, did we mention we were unstoppable from the three point line? We did? Oh. But did we show you? It was quite breathtaking...
Today we really looked like an elite team for the first time.