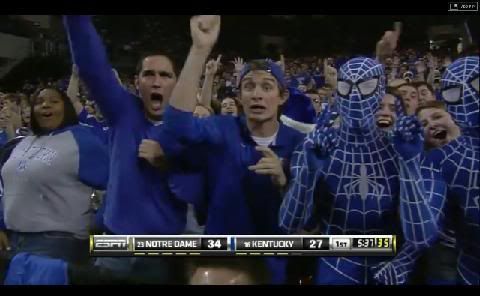 Kentucky 72 - Notre Dame 58
Notre Dame basically fell apart like smoked chicken in this game. With the score 42 Wildcats 40 Irish at the half Notre Dame came out in the second half and did... nothing. Except shoot 36% from the field and 26% from beyond the arc. There were so many missed shots by the Fighting Irish that the word
"Really?"
started being bandied about by a few of us. It was essentially like watching two different teams. On the other hand Kentucky was the same as a few days ago really. Inexperienced, dumb errors but this time were able to pull it out because of Notre Dame's mental collapse.

San Diego State 77 - UC Berkeley 57
"We've never been ranked, so everything is positive when it happens. We embrace it. We think we deserve to be there. I told our team today, I want to look on December 9 and see if we're still there."
- SDSU coach
Steve Fisher
Oh yes, it is December 9th and you are still here. And we are speechless. On the road the Aztecs played an even more complete game than last time. And
finally
SDSU was on target with their three point shooting. In fact it was that aspect that put the game out of reach for Cal. The Golden Bears played a great game and we were right to fear Gutierrez. But in the end great defense and terrific perimeter shooting (can't believe we are saying that) won the day. Go Aztecs.