Georgetown 111 - Missouri 102 in overtime
These are not your father's Hoyas. Georgetown rained down 3s (yes, we said
threes
as in three point shots) all game including the shot that sent the game into overtime. Plus they were devastating from the free throw line. Yes, we are still talking about
Georgetown
! We know! Not only was Missouri no match, we think even Duke would have had trouble (they still would have won though).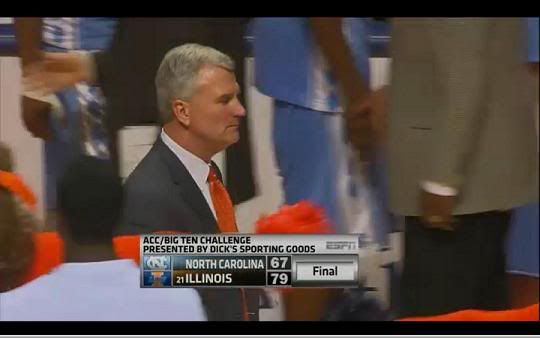 Illinois 79 - North Carolina 67
These are not your father's Tar Heels. Unfortunately we mean that in a BAD way. When the game announcers are saying during the game that you didn't deserve to be ranked in the first place that's pretty bad. When we counted the Illini fans screaming
Airball
at North Carolina over five times things are very bad. When the Tar Heels players were yelling at each other during the game things are downright terrible in Chapel Hill right now.
But when the Illinois kids started chanting "overrated" in the closing seconds of the game to a clearly dazed and confused North Carolina squad that was just stupid.