Music here.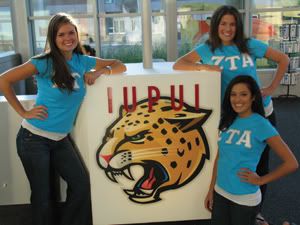 Introducing the Indiana University-Purdue University
Indianapolis Jaguars
We have played the school that is more than a mouthful already in a 61 to 46 outing. That game took a herculean effort from Kawhi Leonard in the second half to lift the Aztecs to victory. Think that was a fluke and possibly the Jaguars had a lucky night?
The same thing happened to 2nd ranked Ohio State
when they played the Jaguars earlier this month. The Buckeyes needed a herculean effort from forward Jared Sullinger to lift them to victory. IUPUI is no joke. Keys for SDSU to win this game -
1) 3 point shots. Yes I know we have gotten better. But IUPUI shoots a respectable 50% from the field and we need a strong counteraction to that.
2) Keep them out of the paint. When Ohio State started to apply defensive pressure on the Jaguars in the second half of their game, that severely limited IUPUI's production. In combination with the first key this can give us a chance.
3) Give Leonard his snaps. Keep on feeding him the rock inside and only good things happen.
Go Aztecs.