Sing it loud and proud Badgers fans...

So
everyone predicted it
, references were made to the
Wisconsin/Ohio State football game
last year and now it is here. There are no more undefeated teams as the
Buckeyes lose to Wisconsin, 67 to 71
.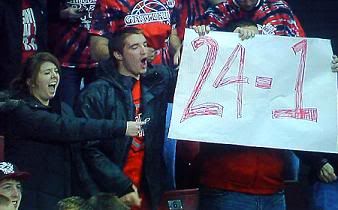 Now now kids.
When all was lost with Ohio State up big in the second half Wisconsin came storming back big time. The Kohl Center is a rough place for visitors. We feel that Texas should be #1 on Monday (even after their close win against Baylor) but the pollsters will pick Kansas.