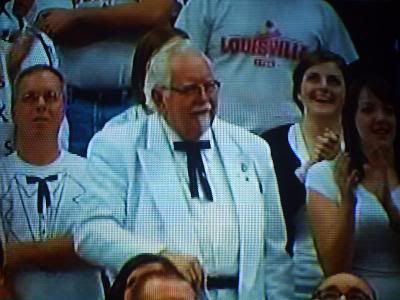 Louisville 62 - Pitt 59 OT
So yeah yeah the Panthers lost against the Cardinals how will this affect Pitt's bid for a #1 seed in the tournament blah blah. The real story here was in the final seconds of the game. Score 60 to 57 in overtime the Cardinals stole the ball from Pitt and drove the length of the court ending with a slam dunk making it 62 to 57. Thunderous applause erupted from the Yum Center. A Louisville male cheerleader who mistakenly thought the game was over ran out onto the court, grabbed the basketball and threw it up into the air.
Only there was 1.5 seconds left on the clock. Louisville was assessed a technical for the cheerleader stunt. Now the CBS cameras were trained on that cheerleader for
10 minutes
while the referees were assessing the technical. The announcers (including Gus Johnson) were saying "if Pitt wins this game because of what that cheerleader did he is in trouble!". The look on his face was priceless. Clearly uncomfortable but trying to be cool about it. Pitt shot two free throws making the score 62 to 59. They got the ball but alas was unable to score ending the game.
That was classic. Go Louisville.
UPDATE:
Video of the whole sordid affair
heyah
.