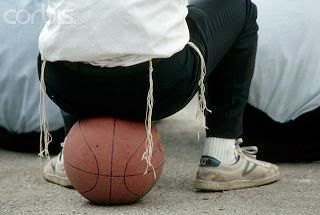 Note to all: When you are at a Catholic university basketball game, do NOT say derogatory things about the Jewish faith.

With five minutes left in a Creighton University basketball game at Qwest Center Omaha, a fan's angry scream rang out.

Jeffrey Aizenberg, a longtime season-ticket holder, couldn't believe what he had heard.

"It was pretty much at the top of his lungs," Jeff said. "He yelled, 'The ref is a Jew!'"

By the time Jeff called to inform CU Athletic Director Bruce Rasmussen the next morning, he learned that the fan not only had been ejected, but also that he had been banned from the Qwest Center for a year.

We are still trying to figure out what that means exactly. If he was Jewish would that mean we would call more penalties on Creighton? Because they're mackerel snappers? Because they have Black guys on their team? What?

Eh, forget it. Why analyze stupidity.