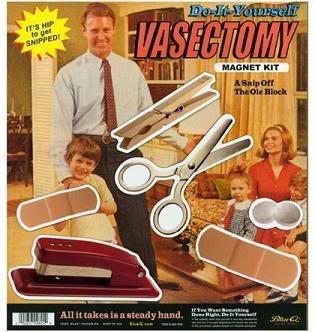 As we get closer to the opening rounds of the NCAA Tournament a lot of businesses are looking to do tie-ins. It's natural and expected. Coke is having a "Taste Madness" thing, the bars around our beloved downtown LA are having drink special deals, etc.

But sometimes some people take things too far...

The name of the hoops/whoops promotion is Vas Madness as opposed to March Madness. What better time for a guy to get himself done than during the NCAA Tournament?

Vikki Smith, community liaison for The Urology Team said that men getting vasectomies at the business's clinic on Jollyville Road in Austin will be able to watch the NCAA tournament games on TV in the waiting area. "Then we're going to have little popcorn and snacks out for everybody," she said. "We try to create sort of a sports bar atmosphere without the alcohol and smoking."

We wonder will gynecologists offer specials on getting chicks tubes tied during the women's tournament?

P.S. No moment of zen this week. Been crazy busy around these parts. Will resume next week.