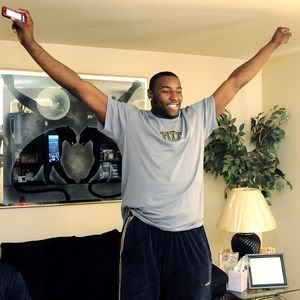 Frustrate DeJuan Blair. Frustrate him like there is no tomorrow. Because if you don't, there literally won't be a tomorrow for you.

In each of the top-seeded Panthers' four losses this season, including last week's Big East quarterfinal defeat to rival West Virginia, Blair was in foul trouble. When Blair and his 15.6 points and 12.2 rebounds per game aren't on the floor, Pitt isn't the same team.

Co-captain Sam Young sat down with Blair after the Big East tournament and all but pleaded with him to stay out of foul trouble.

Blair has been on the bench more than usual in three of Pitt's last five games, and he showed his exasperation with his foul predicament after the 74-60 loss to West Virginia.

Gold we tell ya! Pure gold. If you guys win we accept cash, checks or major credit cards. But keep in mind UConn tried to do the same thing and failed.