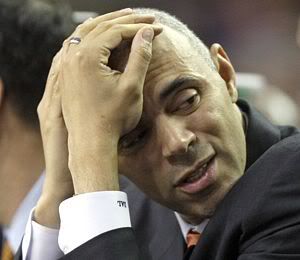 It was very noticeable that Virginia coach Leitao seemed like he just didn't give a damn during their game against Boston College.

While Virginia was looking disjointed and sloppy in a loss to Boston College in the A.C.C. tournament on Thursday, I could not help but notice the lack of enthusiasm from Cavaliers Coach Dave Leitao. He sat back in his chair, stood up occasionally and barked an order every once in a while, but there was no sense of urgency.

Leitao resigned Monday.

Sure, he was named ACC coach of the year. Yes, Virginia's AD said his job was safe. Obviously there was something else on his mind.

Girls perhaps? Eh, who knows... Another coach gone. 'Tis the season.

UPDATE: Hey, Appalachian State's Houston Fancher gives up too.