You say you've had to leave in disgracefully from two universities? We want to name our basketball court after you!

BUTTE, Mont. (AP) - Montana Tech has no plans to change the name of its new basketball court, despite recent allegations against its namesake, former Indiana men's basketball coach Kelvin Sampson, athletic director Joe McClafferty said.

"We're not a big school, but we're extremely loyal, and we're not going to get caught up in that whole game," McClafferty said. "Our court will stay Kelvin Sampson Court. We still love the guy, and if he wants to come back and coach here, we'd sure take him."

And don't forget Sampson also walked away with $750,000.00!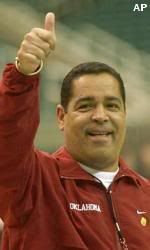 You teh winner!

Love and basketball goes horribly wrong as players on Wright College's basketball team may not know how to take no for an answer.

Geez, this reads like a Stephen King horror novel:

...the alleged victim and three of her friends met the athletes ...at an Indian Hills Community College basketball game, where they exchanged phone numbers. The next evening, the athletes called the women, all 18, and invited them to their hotel room at the Days Inn, according to the documents. Three women arrived at the hotel about 10 p.m. and began drinking with some of the players and were joined at midnight by the fourth woman. They told police they thought there were about seven players and a member of the coaching staff in the room, the documents show.

About 12:30 a.m., three women said several of the individuals pushed them into the bathroom, where they were kept for several minutes, the affidavit says. When they were let out, the fourth woman, who they said had been drinking heavily, was missing.

They finally found their friend passed out and lying half-naked on a bed in another hotel room, the document alleges.


Not exactly how Chingy explains it...