Here is the official consensus top 25 blogpoll -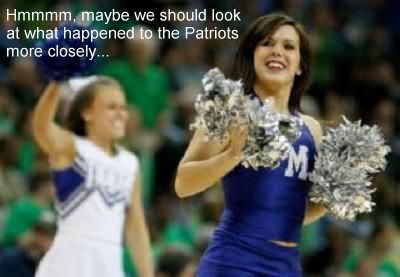 1) Memphis
2) Duke
3) Kansas
4) UCLA
5) North Carolina
6) Tennessee
7) Georgetown
8) Wisconsin
9) Stanford
10) Xavier
11) Drake
12) Texas
13) Butler
14) Michigan St.
15) Indiana
16) Washington St.
17) UConn
18) Kansas State
19) Texas A&M
20) Marquette
21) Arizona
22) St. Mary's
23) Louisville
24) Notre Dame
25) Pittsburgh

Everyone's vote can be found here.

Comments - It was a mere two weeks ago when Ole Miss was a superstar shooting up the polls. But losses to Auburn, Mississippi State and South Carolina drew the ire of the bloggers. I really think that Memphis should not go into the tourney undefeated (reference pic above). It will be a major distraction for a team that gets easily distracted. And UConn is looking like Ole Miss two weeks ago.

Where's Florida you might ask? Screw 'em, getting beat by Arkansas is pretty damn embarrassing. Although I do have to say that the SEC is turning into a cage match.