The conversation started like this -

Steven: "So what do you think about Larry Drew?"
Gabby: "The UNC guard? I dunno, hasn't been a good start to his season so far."
Steven: "People really hate him."
Gabby: "People hate that whole team right now. North Carolina fans are PETRIFIED of a repeat of last year."
Steven: "No. People are starting to blame him for the Tar Heels bad start."

So we looked. And boy howdy it was not a joke. He has a fan page on Fabebook. Dedicated to showing how horrible of a player he is. There is a petition for a Bench Larry Drew website. He is constantly being ridiculed in the press. In fact the most complementary thing we saw was "between the lines" questioning of whether or not he deserves a scholarship.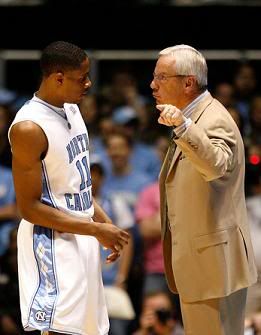 Go down and say no more!
The team comparison stats don't
look so hot either
. So the question is why does coach Roy Williams still play him?