Usually we do liveblogs but for various reasons it didn't pan out. So we are going to do a running commentary of the various games. Keep refreshing this page for the latest moronic things we say.

7:48 pm - Overheard during the Ohio State/Florida game: "Florida has proven they are not ready for elite competition." We think about the SDSU/Gonzaga game later tonight and collectively start to bite our nails.

8:50 pm - When Louisville guard Preston Knowles made a long range 3 late in the first half against Butler Gabby shouted "Woooooo! Fresh Food Fast!"

9:00 pm - There's a fucking Evan Williams Bourbon bar at the University of Louisville's basketball center!?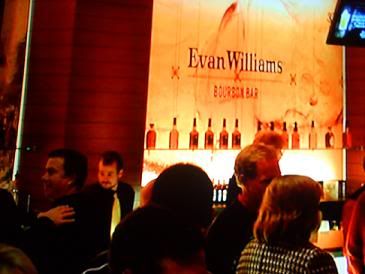 9:25 pm
- Exacto...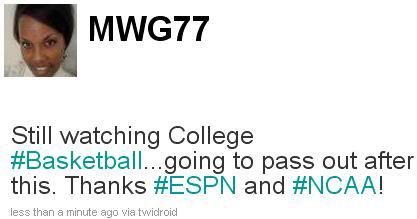 9:55 pm
- There seems to be long stretches of time where Dick Vitale and Dan Shulman aren't even paying attention to the Butler/Louisville game.
10:32 pm
- Louisville fittingly plays
"Happy Trails" to Butler
and we are T minus 27 minutes until the game of the
century
decade
year
week
night.
11:01 pm
- Oh no they didn't! We are forced to watch the beginning of the SDSU/Gonzaga game on ESPN 3 because of some danged football game still going on ESPN 2. Why won't you just DIE, Temple?
11:24 pm
- We are starting in familiar territory. Aztecs are missing open looks...
11:29 pm
- Gonzaga fan screams at ref
"What the hell are you lookin' at?!?!"
Nice.
11:49 pm
- Oh no they didn't 2! They cut away from SDSU/Gonzaga to show the closing seconds of Tennessee/Belmont? Why? Just because the Volunteers are up by only 3?
12:06 am
- Halftime. Every time San Diego State
attempts a three point shot
we CRINGE!
1:13 am
- Why do we have that sinking feeling right now... We have been here before. SDSU 77 - Gonzaga 74 with 38 seconds left.
1:22 am
-
San Diego State University 79 - Gonzaga 76