Montana State University's assistant basketball coach Ryan Orton likes to sabotage women he no longer bangs.

A woman told officers Orton was her ex-boyfriend and was outside, stalking her home. Orton was arrested on partner family member assault, tampering with a communications device and criminal destruction. He pleaded not guilty on Wednesday.

Assault, rigging telephones and destroying property?



Good evening, Mr. Bond.

Bradley basketball players Theron Wilson and Tyrone Cole-Scott reminded that they are not normal college students.

At about 12:59 a.m., Illinois State Police stopped Wilson, 20, a starting forward, for speeding. He was driving his silver Ford. Cole-Scott, a 20-year-old reserve guard, was in the passenger's seat.

The trooper detected an odor of alcohol on the breath of both athletes and cited Wilson for zero tolerance, illegal consumption of alcohol by a minor and speeding. Cole-Scott was arrested for illegal consumption of alcohol by a minor.

"They've paid a price this week and tonight skipping part of a rotation or a start," (BU coach Jim) Les said. "It's unfortunate, but we hold our guys to a high standard. They're not normal college students. They're held to a higher standard, and they're very remorseful."

Yeah, that one game suspension should reeeeaaaaaaly teach them a lesson.

Off topic items:

Woman hosts booze fueled romp for 22 teenage boys and girls.

Police responded to a noise complaint at 277 S. 79th St., West Des Moines, around 11 p.m. They found 22 teens, most of whom were high school students from Dowling Catholic, Norwalk, Valley and Waukee, in possession of alcohol.

Sheryl Lee Cobb, 53, was... the "social host". Nice.

News that will probably be only interesting to me - Portishead is back!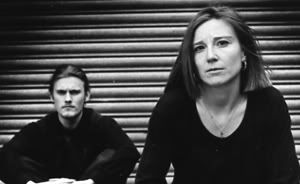 Fucking sweet!