We've mentioned all this in bits and pieces throughout this blog, but we thought maybe it would be a perfect time to distill it down in one bite sized post. We call these our off-season posting rules.

Now that college hoops is done, we switch over to our three other loves in life to help occupy us in the void (in no particular order):

A) College football
B) Politics
C) Cooking

So expect a healthy dose of those sexy McCain girls, our adventures in the kitchen, and why the spread offense is making mediocre coaches look like geniuses.

Also, we always made a point to at least post once a day, if not more. During the off-season expect us to shift that down and post 2 to 3 times a week.

Frequently Asked Questions:

Will the Moment of Zen Wednesdays continue? Please?!
Of course, silly. We would never give that up.

When will you stop with the off-topic crap and get back to the hoops?
Between late October and early November.

Does this mean you guys will NOT talk about college basketball until October?
Sure we will. If there is a breaking story or something we find interesting, you'll find it here. Like the ever expanding arrests of basketball players at Rhode Island colleges. Gambling on the Island!

What else do you guys do when there is no college hoops on?
We entertain the ladies we neglected during the season. Oh yeah.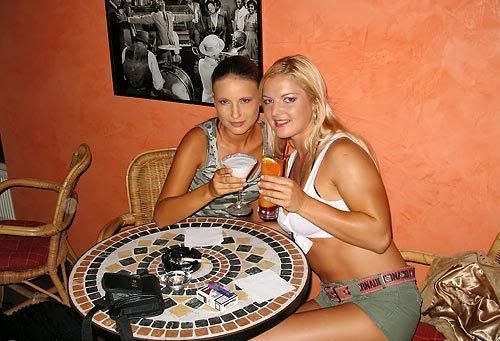 (Disclaimer: Not an actual representation of the actual ladies we actually entertain. Wife is unballing fist now.)

On a final note, expect the season end Top 25 Blogpoll to come out early next week. Hmmm, I wonder who's number 1?