First up, UNC's Tyler Hansbrough implicated in fight outside of Azuca's in San Antonio.

(AP) - San Antonio police were called in response to a disturbance outside of Azuca's Bar and Restaurant on South Alamo Street. Police spokeswoman Marlene Hetner said that there were a group of men arguing and obviously intoxicated.

"There were six men between the ages of 19 - 25 outside the restaurant pushing and shoving each other along with two females standing outside the fracas telling the men to stop." Spokeswoman Hetner said. Two of the men were arrested and booked for causing a public disturbance.

The two men arrested were area resident Steven Tyler, age 21 and Greg Little, age 19. Little is also a member of the UNC Tar Heels basketball team who are in town to play Kansas in the NCAA Final Four on Saturday.

Seen near the fighting was Tyler Hansbrough, also a member of the Tar Heels squad. The two accompanying females stated that Hansbrough was not directly involved but was questioned by police nonetheless and later released.

"We need to question all those involved to figure out what happened," Detective Kyle Pollison said. "It does not and should not imply guilt."

USC head coach Roy Williams declined to comment, briefly mentioning he needed to obtain more information about the events of that night.

Wow, coach Williams better get his boys under control. I know Chapel Hill might not have the nightlife of San Antonio, but you guys have a game in a few days. Chill!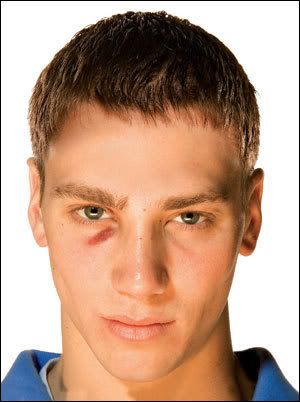 I think the motherfucker is guilty

Next up, Indiana disintegrates before our eyes!

(AP) - Indiana guards Armon Bassett and Jamarcus Ellis have been dismissed from the team.

The players missed an appointment, then didn't show up to run laps as punishment, media relations director J.D. Campbell said Tuesday.

Boots in the ass for all. At this rate they will have no returning players left. C'mon, Eric Gordon is outta there. You think he wants to stay on that sinking ship?