Are we really going to watch SDSU at BYU this Wednesday?

Are we going to put ourselves through this again?

The rundown is the same. A must win for the Aztecs against a ranked opponent to keep their NCAA Tournament hopes alive. San Diego State is creeping back into multiple bracket predictions as a possible 4th team from the Mountain West and a possible 12th seed. But we should know better. We've seen Groundhog Day. We know Einstein's definition of insanity.

But before anyone accuses us of schadenfreude, here is a non-biased opinion from College Hoops Journal:


"SDSU (20-7, 45, 77) Vital victories: New Mexico; UNLV. Damaging defeats: @ Wyoming; @ Pacific. I've said it for three weeks now: SDSU has to finish 11-5 in the conference to have a shot; it's 9-4 now. It goes to Provo Wednesday for a massive game. Winning that would be plate-shifting in the Mountain West. A loss there and SDSU would need to run the table until the conference title game."

So, without further ado our official M2M Prediction is: SDSU loses close one in the final minutes, 71 to 80.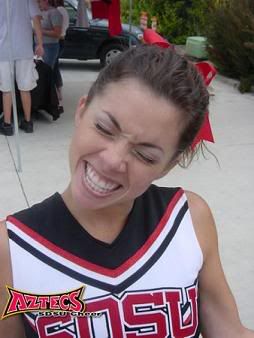 Sigh.