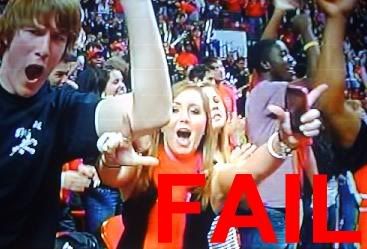 Ummmmm, wow. In the words of Richie Cusack,
How do you fuck that up?
Granted, Texas held at least a 10 point lead over Texas Tech until the last 9 minutes of the game. But when you stage a scoring bizzard,
the opposing team goes cold
and
half their star players are gone
and
they start missing free throw shots
, you have the ball with 12 seconds left
needing only 2 points near point blank range
you cannot miss!
And on top of it you perform the Keystone Cops version of
Should I foul that Longhorn guy or not.
Texas 71, Texas Tech 67. That was San Diego State quality play from the Red Raiders.