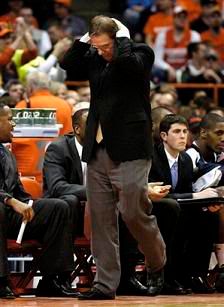 "I both felt that the time away was important for my personal and professional well-being and that I am ready to move ahead from this point at full speed."
- Jim Calhoun, UConn head coach

M2M translation:

"Are you fucking kidding me? Losing 4 out of the last 5 games?! Losing to fucking Providence?! Blaney?! That's how you fucking repay me after I leave you in charge of the team you fucking cocksucker?? I'm sick as a dog and you are forcing me to come back!"

Happy Friday, Huskies.