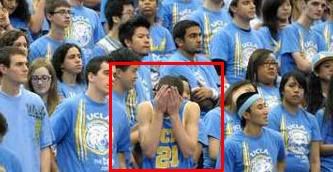 "We're going to try to show that we can play with them."
- Tyler Honeycutt, UCLA forward
Do you know who THEY are? They are the University of Southern California. Stop laughing! Remember
this
? Yup, the last time the Bruins played the Trojans, USC frog stomped them by 21 points. And now UCLA wants payback. Payback from a team who has removed themselves from tournament play. Payback from a team who can't even nail down recruits right now.
Yeah, good luck today we guess. Funny if they beat you again...