That's exactly what we said to ourselves when we read this. We're not big fans of women's b-ball but sometimes you just have to take notice. Especially when two of your star players beat the bejebus out of a little ol' cheerleader:

Amanda Hanneman and Jessra Johnson, the Tigers leading scorers, were arrested early Friday morning after Justin Short, a Missouri cheerleader, called police complaining there were people who would not leave his apartment. When police arrived, Short said he had been assaulted by the basketball players and he was taken to a hospital with a swollen nose and a cut on his eye.



Amanda Jessra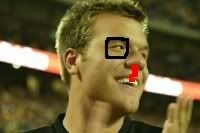 Justin

Missouri's coach Cindy Stein has indefinitely suspended Amanda and Jessra for late night brawling. Believe it or not Justin has been suspended too. Probably a PR move to minimize the embarrassment he's suffering.
UPDATE:
More over at
Busted Coverage
.