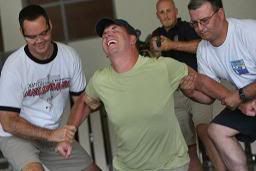 Superfan means no harm. Superfan just wants to cheer his beloved New Mexico State Aggies. If that means making fun of the opponent, so be it. Superfan is up to that.

Unfortunately the police were not.

When the Aggies squared off against the Techsters of Louisiana Tech, Superfan began his usual routine of calling out to the officials, making fun of the other team in support of Aggie Basketball. When fans in the student section began cheering his name, a Louisiana Tech player took it upon himself to thank the audience.

"I told him to sit down and shut up," Superfan (James Kilgore) said. "They were cheering for me."

Then, Officer James Merrell of the New Mexico State Police Department stepped in and proceeded to tell Superfan to shut up and sit down. When Superfan protested his actions, he was promptly met with a jab from Merrell's taser. Although Merrell did not discharge his taser, the fans had already seen enough.

Superfan was eventually ejected from the game, but not without a few more taser stabs.

Now this has led to horrible outrage by the Aggie students. They love Superfan and will be protesting this injustice. We can certainly feel their pain.

Happy Friday.