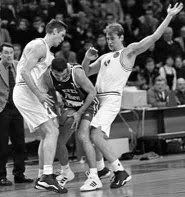 Now they'll all want to join in. Congrats Houston Baptist University for forcing the NCAA to shorten the petition time for Division II schools to become Division I schools from 8 to 5 years.

A St. Louis law firm, on behalf of Houston Baptist University, has reached a settlement with the NCAA that could have billions of dollars in implications for universities nationwide that want to play Division I men's basketball.

James Bryant, a partner with The Stolar Partnership in St. Louis, said his law firm was able to get the NCAA to agree in a court settlement to let the university play Division I by shortening a probationary period by three years.

We don't really look at this as a good thing. The reason why the waiting period was so long was you needed to prove viability and be able to compete with the other 1-A schools. Southern Illinois University-Edwardsville, anyone?


"We're too soft," SIUE coach Lennox Forrester said.
And they WAITED eight years. Imagine if they came out early?
Everyone's always looking for shortcuts. No one is willing to do the hard work to build a foundation.