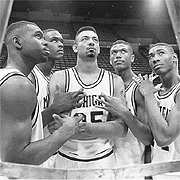 University of Michigan's Chris Webber, Jalen Rose, Juwan Howard, Jimmy King and Ray Jackson will be appearing together for the first time since college as the Fab Five.

DETROIT (AP) -- Michigan's Fab Five will appear together as part of NCAA men's basketball Final Four festivities in Detroit.

No snark, we just thought that was cool. And it is for a good cause.