In case you were talking to some chick at a bar instead of watching college hoops like your momma told you, Missouri's Zaire Taylor made a last second shot to beat Kansas who was previously undefeated in the Big 12. There are plenty of videos out there but we here at M2M love the fan perspective over that glossy ESPN footage:


Very Blair Witch like...

In other news, Cincinnati prepares to honor former drunk and coach Bob Huggins when West Virginia visits the Bearcats this week.

the University of Cincinnati basketball program might provide an opportunity for its fans to finally reach some closure over the departure of former head basketball coach Bob Huggins.

UC officials have plans to honor Huggins when he returns on Feb. 26 as the head coach at West Virginia.

UC officials would not reveal Monday how they plan to honor Huggins.

Maybe with some PBR?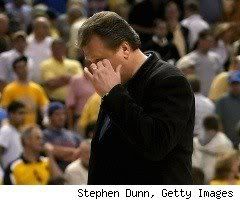 Unnnnnnncomfortable...