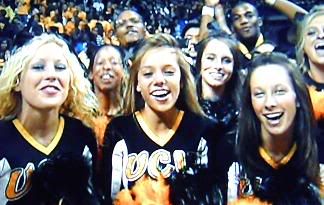 VCU's cheerleaders may be
F
ugly, but the basketball team's style of play es beautiful, mang.
From start to finish the Rams
manhandled Oklahoma
. Just a bombs over Baghdad 3 point barrage VCU brought. There is a joke in the college football universe that goes as such: What does Oklahoma football coach Bob Stoops do? He loses football games. Maybe we should add Jeff Capel to that list for having his 17th ranked Sooners lose a game they had no business losing.
But give credit where credit is due. Congrats VCU for beating a ranked team for the first time since 1989. You know the Commonwealth is 10 minutes away from Gabby. He needs to head down there for a game.