(Ed. Note: We will be doing a 10 part series, one a day on the 10 "most embarrassing" moments in college basketball. Now "most embarrassing" is subjective and we will admit it is only what's embarrassing to us. Also the time frame for this is since Dr. Naismith, whippersnappers.)

Moment #5 - UNLV and the "Fixer" circa 1991

First, lets give a brief bio of Richard Perry:

Perry earned the nickname "The Fixer" by rigging the outcomes of sporting events in order to win bets. In 1974, Perry was convicted of federal charges related to fixing harness races at the Roosevelt and Yonkers racetracks in New York. He was sentenced to prison and paid a fine. Perry pleaded guilty in 1984 to conspiring to commit sports bribery in the Boston College point-shaving scandal. Perry was sentenced to a year in prison.

Not someone you would want to hang out with. Especially if you are a college basketball program in Las Vegas already under probation from the NCAA.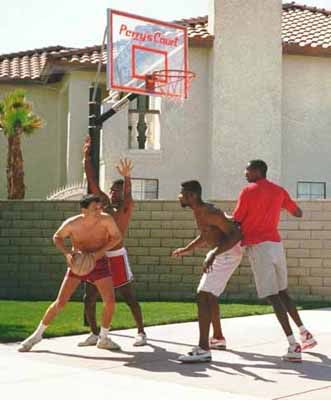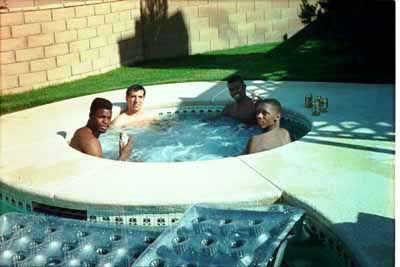 Let me introduce UNLV players Moses Scurry, Anderson Hunt and David Butler. The "Fixer" is that pale guy.

Perry nearly "fixed" UNLV out of existence with this stunt. However it would be Coach Jerry Tarkanian who would ultimately kill the Runnin' Rebels.