Here is the official consensus top 25 blogpoll -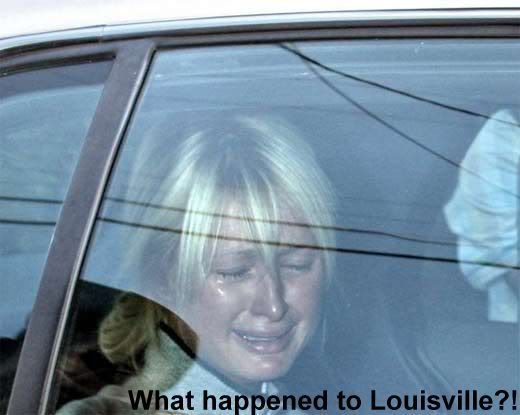 1) North Carolina
2) Memphis
3) Texas
4) Kansas
5) Duke
6) UCLA
7) Georgetown
8) Washington St.
9) Michigan St.
10) Marquette
11) Texas A&M
12) Indiana
13) Tennessee
14) Butler
15) Oregon
16) Xavier
17) Pittsburgh
18) Clemson
19) Vanderbilt
20) Louisville
21) Gonzaga
22) Miami (FL)
23) St. Mary's
24) Arizona
25) BYU

Everyone's vote can be found here.

Comments - Why oh why on God's green earth is BYU still there? No one right now in the MWC is worthy of a top 25 ranking. No one. Am I wrong? Please show me the error of my ways.

PWND!!!11!! Louisville gets one of these:



And now the Cardinals has no Caracter? Oh dear indeed.

If Duke keeps on winning like they are, I think they will make it to the top three now. They might even have a great shot at beating the Tar Heels. Am I willing to say they will go deep in the Madness? Not quite yet.

Arizona is maddening. They come out and play like circa 1992 Michigan, then the fucking very next game they come out and play like circa 2002 Michigan.

Georgetown is starting to scare me...