Arizona's Lute Olson says "Adios, motherfuckers!" to the Wildcats for all of 2007 - 2008...

"I plan to return to coach the University of Arizona next year," (Olson) said. "In the meantime, my heart will be with the team, the coaches and the staff."

No snarky comment, just wondering what the hell is going on?

UPDATE: Lute Olson took a freaking year off from coaching because he is getting a divorce?!?!?!

"There are personal issues within my family that need to be addressed and I must devote my full energy to that," Olson said in the statement.

What the hell is she doing, taking Lute for everything he's got?

In April 2003, Olson married Christine Jack Toretti - a prominent, politically active Pennsylvania businesswoman who is 22 years his junior.

Well, maybe so.... Nothing says love like HALF!!!

(Major HT: Storming The Floor)

Dickie V. can now see into the future...

My preseason choices to make it to San Antonio — site of the Final Four — are Roy Williams' North Carolina Tar Heels, high-flying Memphis, deep and talented Louisville and defensively tough UCLA.


Babeeeeeeeee! And pass the Hooters wings! They're awesome!

Welp, you can now cross out all of those teams from making it to the Sweet 16. We should now start knocking them out of the blogpoll, just for spite. The real funny part is that he picks Louisville, then proceeds to bash the crap out of them.

...This guy (Derrick Caracter) is going to be a superstar or a bust... The only thing that could stop this team is injuries... Juan Palacios is out for four to six weeks.

Oh, he also picks UNC to win it all, so obviously they won't. Sorry Tar Heels fans.

You can file this under the gift that keeps on giving. Greg Oden may cause Ohio State to lose scholarships.

Oden was one of three Buckeyes to leave for the NBA after their freshman seasons, along with Mike Conley Jr. and Daequan Cook, but only Oden withdrew from school after starting spring quarter.

...questions remain over his academic status when he left school.

Translation: He dropped out without completing a single quarter credit to get that big money. Further translation: He wasn't a full time student.


Thanks asshole.

Sincerely,
Thad Matta and tOSU Basketball Team

Finally, did you know that the NCAA has a mascot for men's basketball? Mr. J.J. Jumper.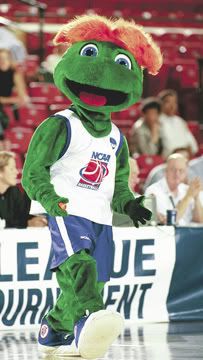 Seriously!

Happy Friday everyone.