Here is the official consensus top 25 blogpoll -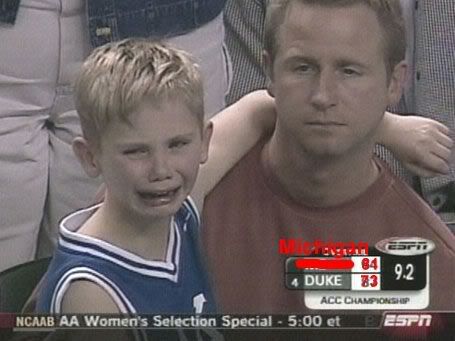 1) North Carolina
2) Pittsburgh
3) Connecticut
4) Gonzaga
5) Oklahoma
6) Texas
7) Tennessee
8) Louisville
9) Duke
10) Xavier
11) Wake Forest
12) Georgetown
13) Notre Dame
14) UCLA
15) Syracuse
16) Villanova
17) Memphis
18) Purdue
19) Arizona State
20) Ohio State
21) Baylor
22) Davidson
23) Kansas
24) Michigan State
25) Marquette

Everyone's vote can be found here.

Comments - We told you so, we told you so, we told you so...

Duke lost to unranked Michigan. At least they got it out early in the season. We completely dropped them out of our ballot, dropped them like they hot!

UNC was the unanimous number 1 again. We're starting to believe the hype that they will win March Madness although history is against them. Pitt leapfrogging over UConn is unconscionable in our opinion, clearly the Tar Heels and the Huskies are the teams to beat right now. What? Buffalo almost beat UConn? Man, forget that. Buffalo is a better team than people think and would have made it a close game with even North Carolina for about 15 minutes. We're not saying it would be a toss up between UConn and UNC, the Heels would clearly win. But it would be a yummy battle.

UPDATE: We love it when people agree with us.