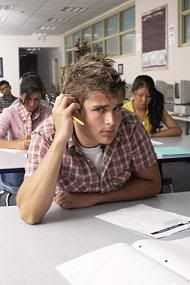 Wow, what's next for the languishing Southeastern Conference? They already knew how bad they sucked on the court, now they know how bad they suck in the classroom too.

Men's basketball programs at Alabama and Auburn each fell below the NCAA mandated cut-off line in annual Academic Progress Rate scores released Wednesday.

Auburn was docked a scholarship for not reaching the NCAA's standard of 925 points out of a possible 1,000. Coach Jeff Lebo's Tigers scored an 899.

Auburn's AD gives the usual "unacceptable" line here. Which to us is kind of like saying it was "unacceptable" for your friend to have driven your new car off a cliff. *zing*

We think the proper response is what are you going to freakin' do about it (and we think the answer will be probably nothing).